This page is under construction January 2021
Jump To:
Federation Bay Windows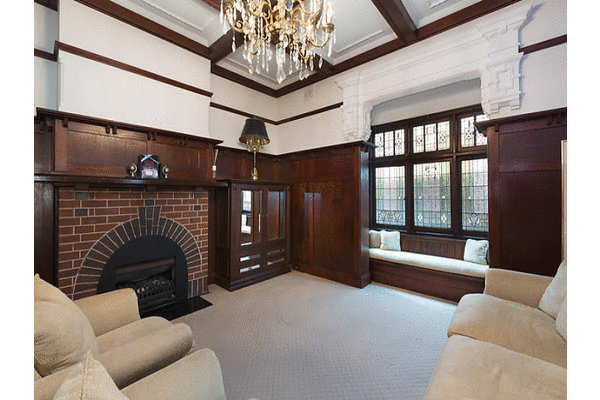 Bay Windows
Bay windows became a hugely popular feature of Queen Anne residential architecture from about the 1870s and hold a continuous appeal up to this day.
Bay windows are the most significant feature of Federation style

and are the most obvious stylistic feature of reproduction Federation Style residences.
Above: Bay window with arch but no window seat
Bay windows are used to increase the flow of natural light into a building, so

making a room appear larger, and to

provide views of the outside which would be unavailable with an ordinary flat window.
Above: A beautiful, complex bay window at 6 Buena Vista Avenue Clifton Gardens, NSW,
has become a conversation nook
Above: The bay window as a nook for taking tea, at 6 Buena Vista Avenue Clifton Gardens
Bay windows were a popular feature in many period and Federation-style homes.
Bay windows project out from the wall and extend to the ground.
What is a Bay Window?

A bay window is a series of windows assembled in a polygon shape that project outward from the face of a house.
A BAY is generally composed of three individual windows

with the side units at 45 degree or 30 degree angles to the wall.

An "angle bay window" refers to the angle of departure from the plane of the wall.
A bay window is a window space projecting outward from the main walls of a building and forming a bay in a room, either square or polygonal in plan.
The angles most commonly used on the inside corners of the bay are 90, 135 and 150 degrees.
What is a Bow Window?

A bow window is a curved bay window.
Bow windows are designed to create space

by projecting beyond the exterior wall of a building, and to

provide a wider view of the garden or street outside

and typically combine four or more casement windows,

which join together to form an arch.
​
Left: Oriel window above, and bay window below at Devon, Martin Road, Centennial Park NSW

In 1894 the UK Building Act changed the regulations, so that windows no longer had to be flush with the exterior wall.
This enabled windows to stand proud from the facade.

The late Victorian and Edwardian period took advantage of the change in new building regulations and now presented their windows in bays.

Medium and larger houses would often display double bay or bow windows.

A bay window creates the illusion of a larger room.
It also maximizes the amount of light entering a room

and offers a dryer alternative to a balcony.
A bay window extrudes from a main exterior wall, forming a space framed by three or more windows.
The space may be square, polygonal, or round depending on the type of structure.

Traditional bay windows are built with inside angles of 90, 135 and 150 degrees, although there are many custom variations.
​
Above from Left: Edwardian Bay Windows
​
The sash window would tend to have the upper decorative multi pane section fixed and a single sliding pane of glass below to allow for more light.

Casement windows open out, not up. The Arts & Crafts style would sometimes use metal casements set within stone surround called mullioned windows.

Gothic style sash mullioned windows

Sash windows would often be painted in the Queen Anne style of white.
History of Bay Windows
​
​
​
​
​
​
​
​
​
​
​
​
​
​
​
​
​
​
​
​
​
I'm a paragraph. Click here to add your own text and edit me. It's easy.
Window seats
A window seat is a miniature sofa without a back, intended to fill the recess of a window, especially a bay window.

In the latter part of the 18th century, when tall narrow sash windows were almost universal, the window seat was in high favor.

A window seat is a seating area in an alcove or nook that is lined with windows.

These seating areas have romantic associations, as many people idealize the sense of luxury and spare time that they suggest.

Typically, the seat is installed in an area with an attractive view, so that someone seated in it can enjoy the beauty of the outdoors while working on a project that requires natural light, such as knitting.

Such seats are also used for reading or simply enjoying a respite from daily life.[6]

A bay window is a natural spot for a window seat.
​
​
​
​
​
​
​
​
​
​
​
​
​
​
​
​
​
​
​
​
​
​
​
​
Above: Window seat at Bay window, 12 Coogee Bay Road Randwick NSW
​
​
​
​
Above: Addenbrooke Interior showing a window seat in a bay window
Above: Window seat with opposite corner fireplace at 18 Prince Albert Street Mosman